We all have wise and loving ancestors that are available to support us in our lives. Our ancestral lineages carry gifts and challenges, beneficial patterns and sometimes harmful ones.
In the ancestral lineage healing process I will support you to come back into conscious relationship with your deeply well ancestors, who in turn will be able to bring healing to all those in your lineages. This work is done through a ritual process that emphasizes boundaries, thoroughness and simplicity. You will work with deeply well ancestors in one lineage at a time to support those in your ancestry who are not yet well to heal and become well and at peace. The framework is culturally inclusive, and lovingly compliments the practices of all religious backgrounds and spiritual practices.
I offer sessions primarily by zoom or phone (ask about in-person sessions if you are local). Initial sessions are 90 minutes and $110, all other sessions are 60 minutes and $80. The practice is generally about 1 hour and there is time on either side to check in, discuss and debrief. I offer an optional 20 minute free "meet and greet" session as an opportunity to meet one another and to check in about this work being a good fit for you. Click on the button below to schedule or reach out to me at jilliantwisla@gmail.com
I also offer a 5 session package for $380 (one longer initial session and four normal sessions) which supports a good amount of time to dig in deeply with one lineage.
The button will refer you to Paypal to complete your payment securely; you can use a Paypal login or choose to pay with a debit or credit card. A zoom link will be automatically sent but if you would prefer to meet by phone just email me to let me know and we'll do that instead.
Important notes:
While this particular process focuses on blood and bone ancestors, you do not need to know anything about your biological family in order to do this work. It also does not require contact with living family. It is possible to extend the work to adoptive family systems and other types of ancestors, so reach out to inquire about that if it's where your interest lies.
I do not contact your ancestors for you but rather facilitate your contact and process with them. If you are still developing intuitive skills, there may be a bit of a learning curve in the beginning to develop and learn to trust your ability. I will support you every step of the way.
If there's anything I've learned as a practitioner, it's that people, and ancestors, heal at their own best pace. As such, it's difficult to predict how many sessions will result in a well and healed lineage. Generally, 6-10 sessions over 3-6 months is a reasonable range to consider. At least three sessions is recommended to get to a safe and stable place with a lineage, but I do offer one off sessions as well.
If there's a specific concern that you have coming up in your life or your family than we can ask your ancestors to help you focus on resolving patterns that will be helpful to whatever theme is tied up with that.
My areas of particular skill and experience: healing from ancestral displacement from land, doing the work with particular emphasis on supporting children or other living family, working with family themes around addiction, history of incest, covert incest, emotional entanglement, themes around death: both in wanting to heal ancestors and set things well in preparation for one's own death, as well as in support of a family member who is going to or has recently died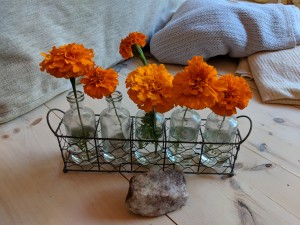 More information about Ancestral Lineage Healing:
We don't automatically become well when we die. There are many people who cross over and bring their unresolved traumas or harmful patterns with them. We all have practices in our ancestral history of tending the dead to become well, but with the acceptance of a materialistic world, most of us have lost those traditions and weren't raised with them. As a result, many of us have generations of not-completely settled ancestors behind us. We may have strong boundaries with them to protect ourselves and our lives from playing out their unwell patterns, but when they are deeply well, there is no longer a need for strong boundaries. They can become our well, wise and loving guides, our support, and we can become the face of our healed ancestors.
Ancestral Lineage Healing is a process of working with those who are deeply well in spirit, who have the old wisdom from their lifetimes and know how to walk the path to become ancestralized. We ask them and support their process of healing those who are not yet well, all the way forward to the living. We work towards fully well and healed lineages so that the living client is able to be in easeful and supportive relationship with the dead. Being more deeply resourced in our lives and less burdened, people often find that they can more easily resolve their own wounds and patterns, because they are no longer connected to a historical pattern. Once the generational trauma has been healed in the dead, we have more space for healing in the present.
Most people worldwide in our time have been effected by oppression, colonization and racism either in the present or in their ancestry, and most of us have lost our ancestral healing and tending practices as a part of that trauma. This means that many of us are walking around with a lot of unresolved trauma in our lineages. It's my understanding that if we all supported our ancestors towards healing and were therefore living from a place where we were really deeply resourced with them, we would be better able to show up for the work that lies before us in healing oppressive, racist systems and re-imagining our future in a good way for the benefit of all beings.
If we all had clear access to the wisdom, skills, love, guidance and support of our ancestors, we would be better able to show up for being good parents, friends, partners, community members and generally for learning how to walk more lightly, appropriately and relationally on this Earth. I feel really inspired by this work, my experience is that it can be quite profound, and yet it's very simple, accessible work. Everyone has ancestors, and everyone has the ability to work with their people in a good way. When enough of us do that, we will see profound effects in our lives and, I believe, in the story of humanity.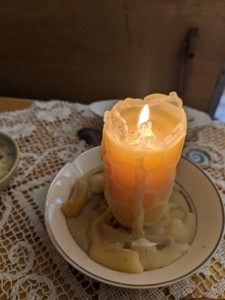 How I came to this work:
Ancestors have always been a part of my ritual practice, from childhood. But while I welcomed in the presence of various spirit guides, plant spirits, animal spirits, land beings, I always felt a strong need for firm boundaries with my ancestors, and would specifically only invite into my space those who were really at peace and able to be of benefit to me and my intentions in ritual. I was deeply aware of the harmful patterns played out by my recent ancestors in most of my lineages, even while I appreciated their positive attributes. So beyond holding boundaries and occasionally inviting only very few of them into my space, I didn't think about them much beyond this.
Then, a few years ago ,while I was pregnant with my daughter, I started to receive a lot of messages from my guides about working more deeply with my ancestors. I heard messages from my guides about how much my ancestors yearned to support me through the coming years, year that would end up being some of the most intense and challenging of my life thus far. It was around this time that I was in a class with one of my mentors, Evelyn Rysdyk, and she began to talk about ancestors… elaborating on how much they want to be of service to us, to support, guide and love us. From there I came across Daniel Foor's work and quickly recognized that his perspective was very resonant with what my own guides had taught me: that not all humans who cross over become immediately well, that it's important to have boundaries with them until they have healed… but what stood out for me was that for the first time, I saw that of course I could also engage and support them to become well. The other piece that I appreciated about Daniel's approach is that it was simple, practical, accessible and safe, it aligned quite well with how I intuitively engage in ritual and with my felt sense of appropriateness and safety. From there I began to learn from Daniel and to work with my own ancestors. The work went in all sorts of directions, and brought healing to me and my family on levels seen and unseen. It proved to be so personally profound that I felt pulled (and was also quite regularly urged by my ancestors and guides) to take steps towards offering the work for others. To go from having a tentative relationship with my ancestors to being able to fully resource my life with them at my back is an incredible difference. Being able to watch my Nana pass away this past year and go into the arms of a deeply well and connected lineage that awaited her was an experience beyond words… Being able to work with the ancestors to help resolve patterns that may have effected my children is an empowerment beyond words… Gaining access to deeper healing around my own trauma by working through those patterns in my ancestors has been deeply profound.