Classes and consultations are held at my home in Hope, Maine. My partner, Ryan, and I share a deep commitment to the land where we've made our home and we are building our homestead in alignment with that commitment. We respectfully acknowledge that we are residing on Wabanaki land. Part of the way that we honor this is by allocating a portion of all class fees for an annual donation to organizations supporting indigenous sovereignty.
Ryan has been researching and working with alternative building materials and methods for over 15 years. My consultation space resides in the beautiful straw bale and lime plaster cabin that he built as a teenager. Our teaching space is a timber framed building with straw bale insulation and a large sub-foundation climate battery to store solar hot air collected from the south side. Other features in the buildings on our homestead include passive solar design, active solar heat collection, composting toilets, a rocket mass heater, the use of oat hulls as insulation, earth berming, south side greenhouse design and lime cement plaster. Experimenting with low impact materials and methods is important to us and is in alignment with our love for the land.
We have large herb and veggie gardens, which we have designed and manage according to permaculture principles and using organic and biodynamic practices. We are currently in transition and focusing on nursery-growing plants to populate a large forest garden we have begun to design near our home. The forest garden will include many types of fruits, nuts, perennial vegetables and, of course, many medicinal plants.
Together we are slowly rehabilitating the surrounding 30 acres of forest by managing growth and succession, introducing under-story plantings and encouraging fungal growth. We are especially focused on re-introducing native species and endangered medicinals. We work with biodynamics, some Korean natural farming practices and foundational forestry practices to improve the health of the land where we live.
Goals for invitin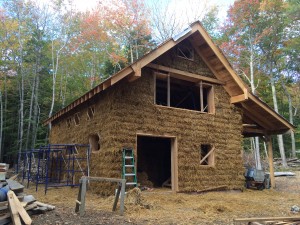 g others to our home for classes and consultations include:
To provide a safe, sacred and inclusive space for individual and group learning, healing and development.
To offer facilitated learning and healing experiences focused primarily on herbal medicine, but also including Earth-based spirituality, other healing therapies, land healing practices, permaculture, sustainable living practices and homesteading.
To inspire, empower and support our human community in deepening a connection with land, all other beings and spirit.